Why Stay at a Crowded Hotel
When you can have a Luxury Villa All to YourselF?
Private Infinity Edge Pool
And So Much more
Privacy
Imagine an amazing vacation, away from the hustle and bustle of a busy resort with the privacy that only a private vacation rental home can provide.
Luxury Ammenities
Situated on 1 acre of prime, waterfront real estate, Villa Serenita features amenities associated with the most well appointed hotels and resorts.
weddings & Events
Villa Serenita is a stunning venue for destination weddings, wedding receptions, vow renewals and other special events.
an Exceptional and exclusive Private Vacation
Villa Serenita is a stunning, private retreat where you can relax and enjoy the beauty of the Virgin Islands with family and friends.
This 7 bedroom luxury vacation villa rental property is situated on over an acre of prime waterfront real estate on the east end of St. Thomas, Virgin Islands; just 5 minutes from Red Hook and 20 minutes from the St. Thomas airport.
This classic, Caribbean style home offers dramatic ocean views, water access, outdoor dining and an infinity edge pool.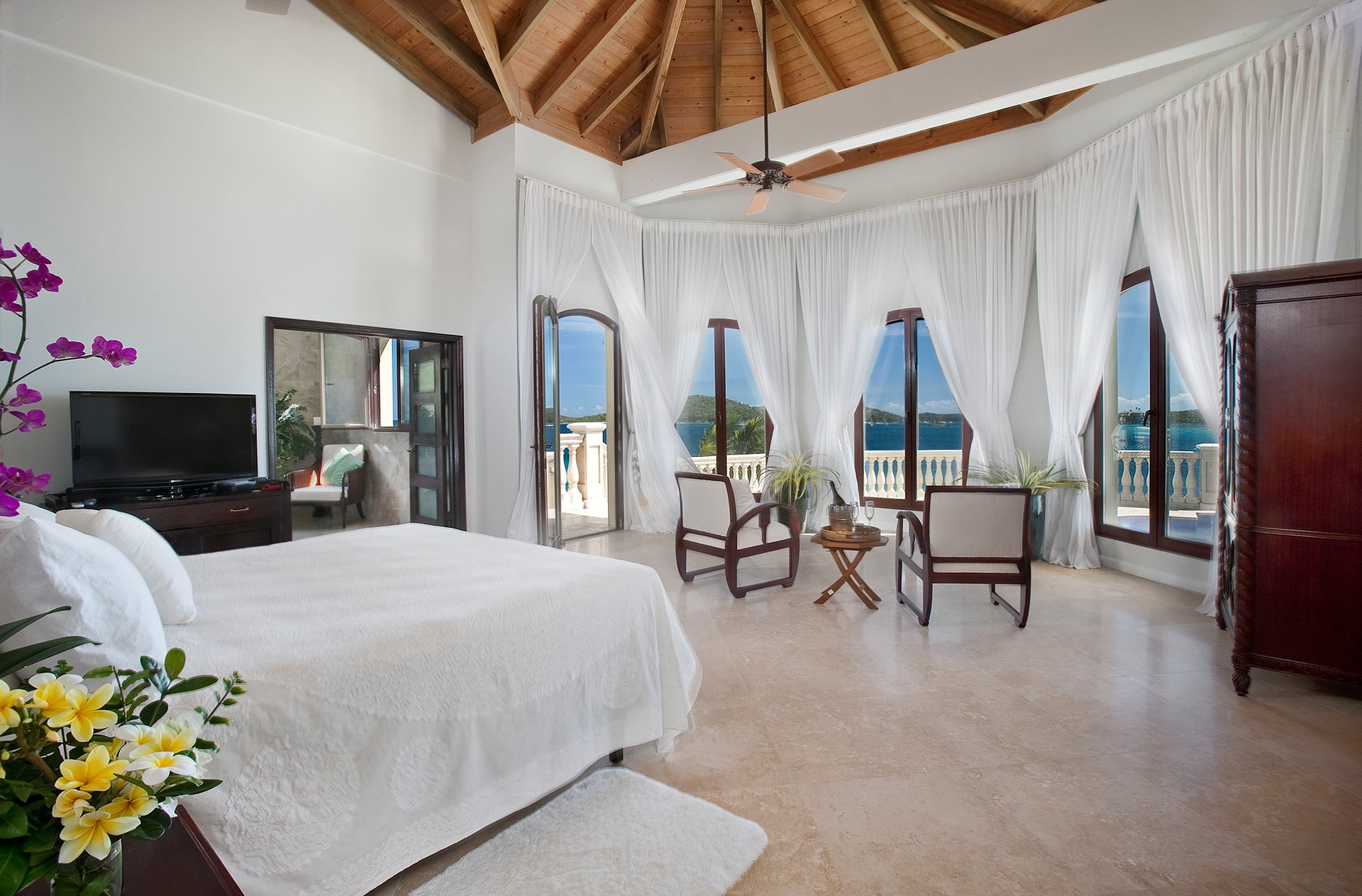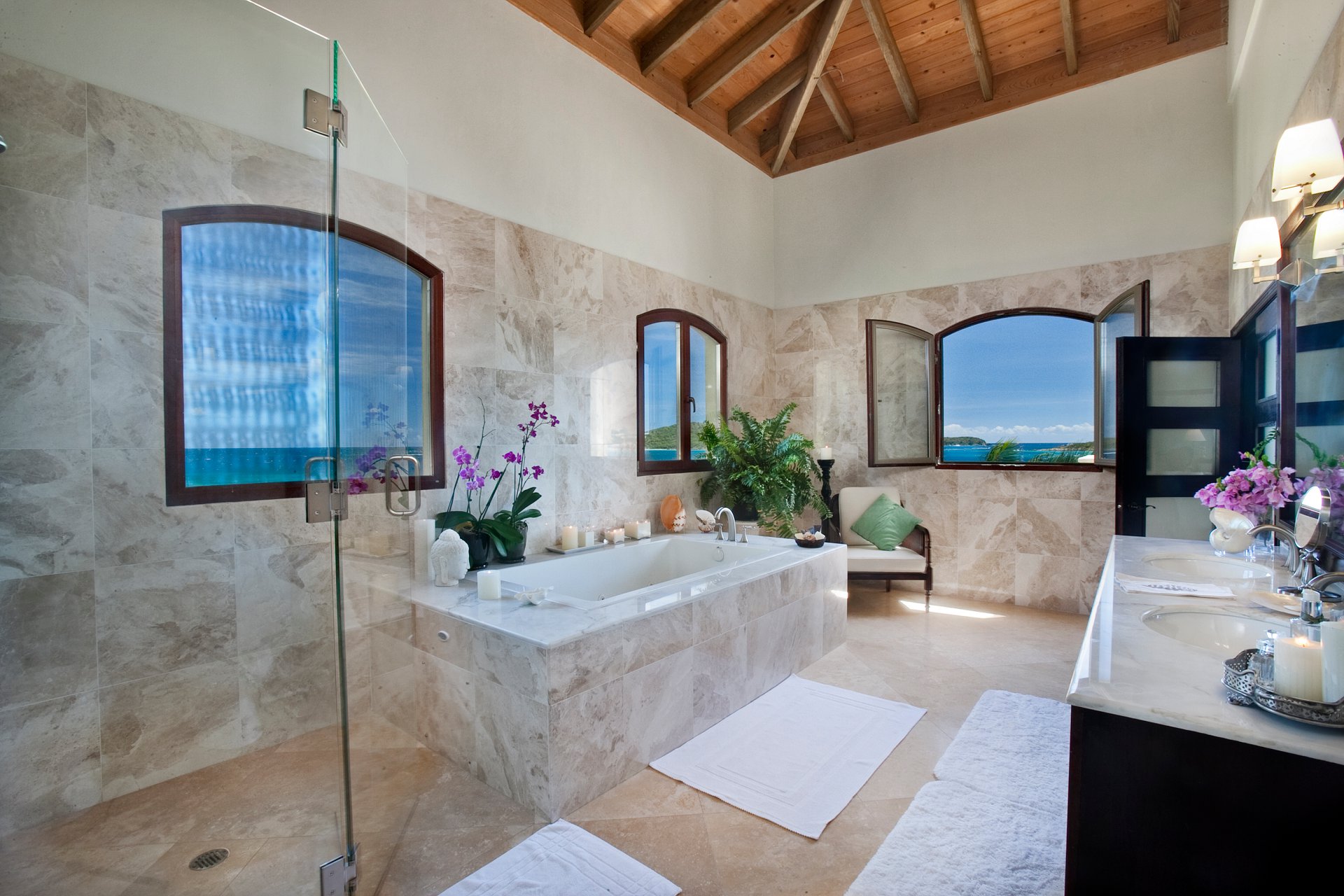 2 Master Suites
Each with expansive ocean views; en-suite bath; jetted tub; flat screen TV/DVD player; air-conditioning and black out curtains
4 Large Guest Suites
Each with expansive ocean views; en-suite bath; flat screen TV/DVD player; air-conditioning and black out curtains
Additional Bedroom
For larger parties or groups with extra last minute guests with ocean view, air-conditioning, and black out curtains.
Large Great Room
Spend time together in the large, open great room that features comfortable white slipcovered sofas and large sliding glass doors to the infinity edge pool.
Infinity Edge Pool
Enjoy the pristine beauty of the Caribbean sea from the blue tiled infinity edge pool, which is just off the great room
Gourmet Kitchen
Stainless steel appliances including gas range, dishwasher and double oven make this kitchen a chef's dream. Open to the dining area and great room, whipping up meals is a breeze
Grill
You'll enjoy grilling out overlooking the Caribbean sea with the large, stainless steel grill, just off the main kitchen
Outdoor Living & Dining
Expansive patios with tables, lounge chairs and outdoor sofas and seating on both levels of the house are perfect for lounging; casual, alfresco meals and sipping sunset cocktails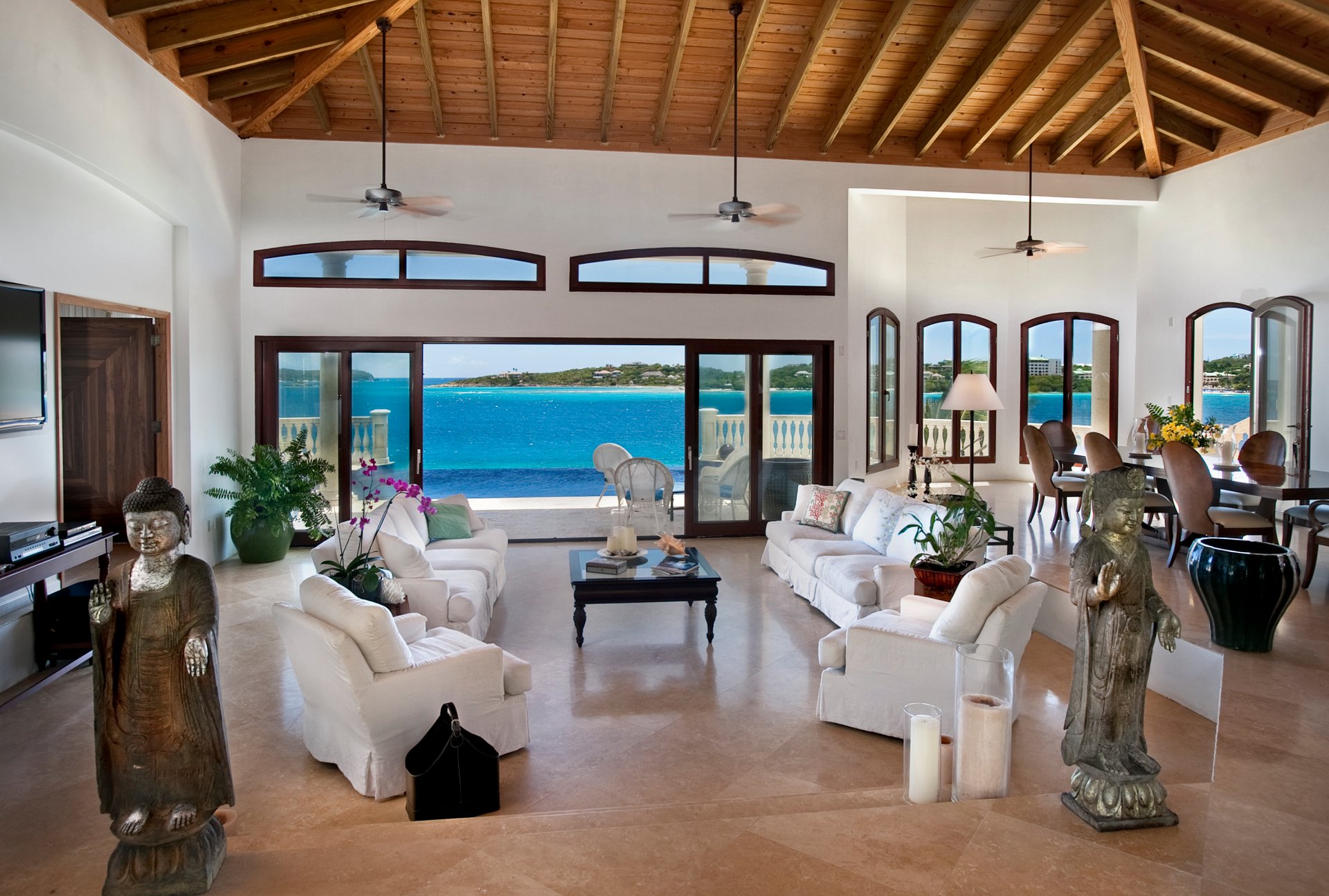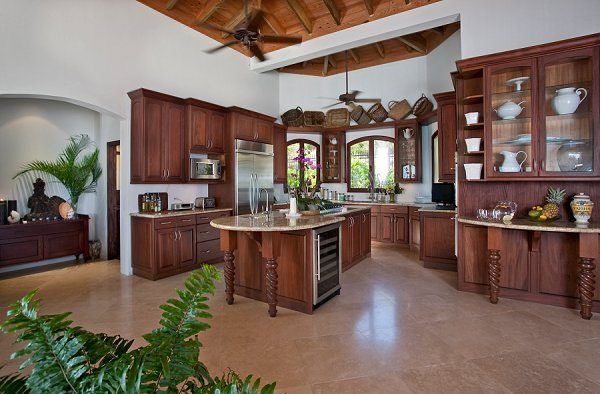 Comforts of Home
Rental includes hair dryers, high efficiency washer/dryer, iron and ironing board, bath towels, beach towels, bed linens, parking for 3 cars within gate and plenty of off street parking beside the property
Air-Conditioning
Each room has ceiling fans as well as its own air-conditioning control
Wi-Fi Internet Access
Wi-Fi internet access is available throughout the property including poolside and on the outdoor patio spaces
Dining Area
Indoor dining table seats 8 and is located just off the great room and kitchen.
Television & Entertainment
Each bedroom and the great room have large, flat screen TVs, DVD player, Satellite Cable access and Wi-Fi
Tropical Landscaping
Tropical flowering plants and several species of palm tree surround the house and add to it's Caribbean charm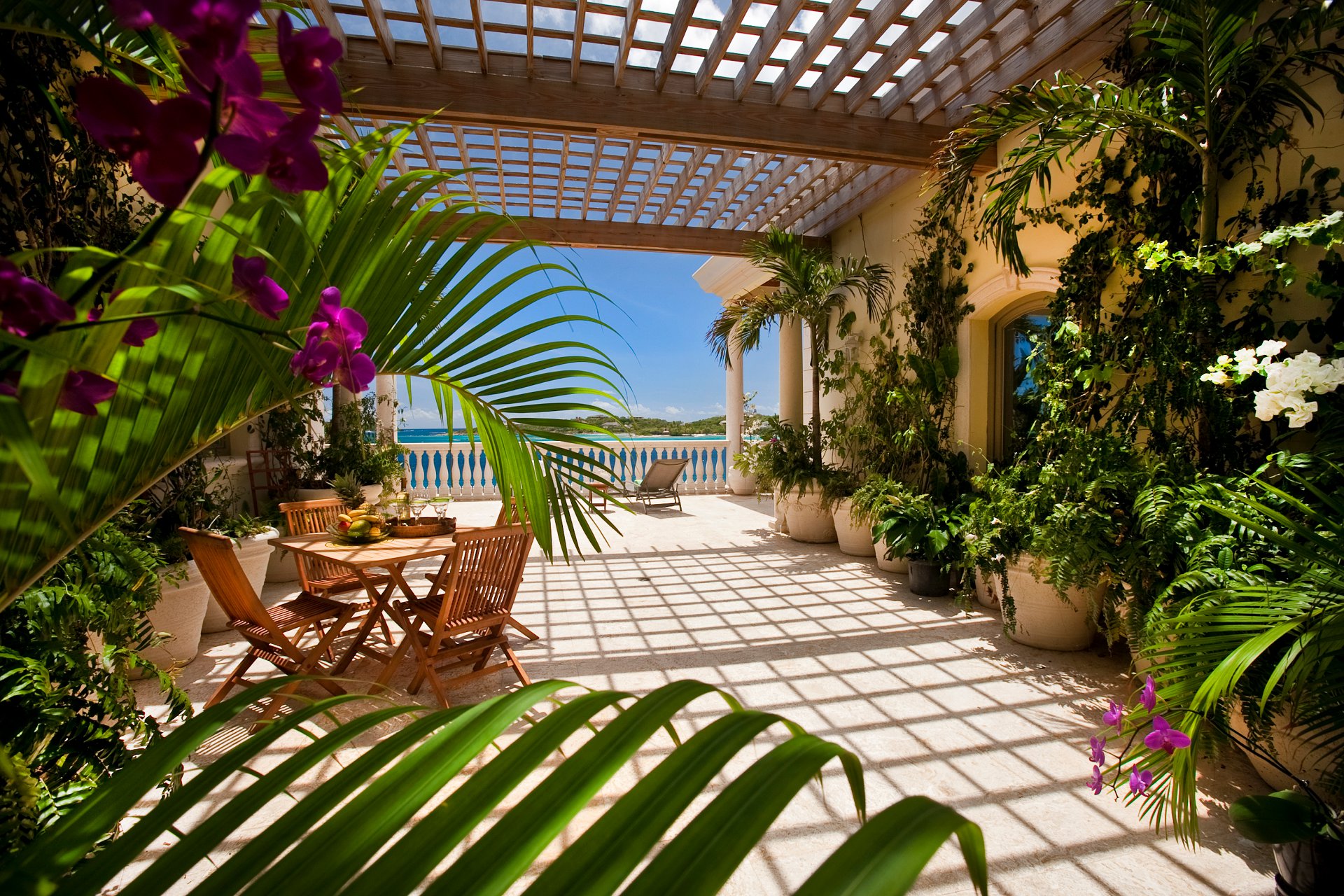 Wake Up To This Stunning View
Our family has been doing vacation villa vacations for 20 years on various islands. This was the best maintained and equipped villa we have stayed in.
The owners were unbelieveably responsive and helpful. The location was lovely. I would give this villa more than 5 stars if I could.
Wanting to Come Back
from Evans City, PA
An Amazing Holiday
My family and I stayed at this gorgeous villa last March and it was perfect in every way.
The infinity pool is peaceful and serene and the views are breathtaking.
The owner was very helpful and was available at all times to answer any questions and provide help.
Lauren G.
and Family
Fun with Family and Friends
The views from the deck of this home are amazing. It's like something out of a magazine.
During our stay we watched the Rolex Regatta from the balcony!
Our two families totaling 12 were more than comfortable here.
But the home can accomodate even a third family.
I've seen other homes in St. Thomas and this one is at the top of my list. It really is something special.
Natale C.
from cold, cold IL
Did We mention The
Private Infinity Edge Pool?
Calendar Updated on March 25, 2023 at 02:49 am
March 2023
| | | | | | | |
| --- | --- | --- | --- | --- | --- | --- |
| S | M | T | W | T | F | S |
| | | | 1 | 2 | 3 | 4 |
| 5 | 6 | 7 | 8 | 9 | 10 | 11 |
| 12 | 13 | 14 | 15 | 16 | 17 | 18 |
| 19 | 20 | 21 | 22 | 23 | 24 | 25 |
| 26 | 27 | 28 | 29 | 30 | 31 | |
April 2023
| | | | | | | |
| --- | --- | --- | --- | --- | --- | --- |
| S | M | T | W | T | F | S |
| | | | | | | 1 |
| 2 | 3 | 4 | 5 | 6 | 7 | 8 |
| 9 | 10 | 11 | 12 | 13 | 14 | 15 |
| 16 | 17 | 18 | 19 | 20 | 21 | 22 |
| 23 | 24 | 25 | 26 | 27 | 28 | 29 |
| 30 | | | | | | |
May 2023
| | | | | | | |
| --- | --- | --- | --- | --- | --- | --- |
| S | M | T | W | T | F | S |
| | 1 | 2 | 3 | 4 | 5 | 6 |
| 7 | 8 | 9 | 10 | 11 | 12 | 13 |
| 14 | 15 | 16 | 17 | 18 | 19 | 20 |
| 21 | 22 | 23 | 24 | 25 | 26 | 27 |
| 28 | 29 | 30 | 31 | | | |
June 2023
| | | | | | | |
| --- | --- | --- | --- | --- | --- | --- |
| S | M | T | W | T | F | S |
| | | | | 1 | 2 | 3 |
| 4 | 5 | 6 | 7 | 8 | 9 | 10 |
| 11 | 12 | 13 | 14 | 15 | 16 | 17 |
| 18 | 19 | 20 | 21 | 22 | 23 | 24 |
| 25 | 26 | 27 | 28 | 29 | 30 | |
July 2023
| | | | | | | |
| --- | --- | --- | --- | --- | --- | --- |
| S | M | T | W | T | F | S |
| | | | | | | 1 |
| 2 | 3 | 4 | 5 | 6 | 7 | 8 |
| 9 | 10 | 11 | 12 | 13 | 14 | 15 |
| 16 | 17 | 18 | 19 | 20 | 21 | 22 |
| 23 | 24 | 25 | 26 | 27 | 28 | 29 |
| 30 | 31 | | | | | |
August 2023
| | | | | | | |
| --- | --- | --- | --- | --- | --- | --- |
| S | M | T | W | T | F | S |
| | | 1 | 2 | 3 | 4 | 5 |
| 6 | 7 | 8 | 9 | 10 | 11 | 12 |
| 13 | 14 | 15 | 16 | 17 | 18 | 19 |
| 20 | 21 | 22 | 23 | 24 | 25 | 26 |
| 27 | 28 | 29 | 30 | 31 | | |
September 2023
| | | | | | | |
| --- | --- | --- | --- | --- | --- | --- |
| S | M | T | W | T | F | S |
| | | | | | 1 | 2 |
| 3 | 4 | 5 | 6 | 7 | 8 | 9 |
| 10 | 11 | 12 | 13 | 14 | 15 | 16 |
| 17 | 18 | 19 | 20 | 21 | 22 | 23 |
| 24 | 25 | 26 | 27 | 28 | 29 | 30 |
October 2023
| | | | | | | |
| --- | --- | --- | --- | --- | --- | --- |
| S | M | T | W | T | F | S |
| 1 | 2 | 3 | 4 | 5 | 6 | 7 |
| 8 | 9 | 10 | 11 | 12 | 13 | 14 |
| 15 | 16 | 17 | 18 | 19 | 20 | 21 |
| 22 | 23 | 24 | 25 | 26 | 27 | 28 |
| 29 | 30 | 31 | | | | |
November 2023
| | | | | | | |
| --- | --- | --- | --- | --- | --- | --- |
| S | M | T | W | T | F | S |
| | | | 1 | 2 | 3 | 4 |
| 5 | 6 | 7 | 8 | 9 | 10 | 11 |
| 12 | 13 | 14 | 15 | 16 | 17 | 18 |
| 19 | 20 | 21 | 22 | 23 | 24 | 25 |
| 26 | 27 | 28 | 29 | 30 | | |
December 2023
| | | | | | | |
| --- | --- | --- | --- | --- | --- | --- |
| S | M | T | W | T | F | S |
| | | | | | 1 | 2 |
| 3 | 4 | 5 | 6 | 7 | 8 | 9 |
| 10 | 11 | 12 | 13 | 14 | 15 | 16 |
| 17 | 18 | 19 | 20 | 21 | 22 | 23 |
| 24 | 25 | 26 | 27 | 28 | 29 | 30 |
| 31 | | | | | | |
January 2024
| | | | | | | |
| --- | --- | --- | --- | --- | --- | --- |
| S | M | T | W | T | F | S |
| | 1 | 2 | 3 | 4 | 5 | 6 |
| 7 | 8 | 9 | 10 | 11 | 12 | 13 |
| 14 | 15 | 16 | 17 | 18 | 19 | 20 |
| 21 | 22 | 23 | 24 | 25 | 26 | 27 |
| 28 | 29 | 30 | 31 | | | |
February 2024
| | | | | | | |
| --- | --- | --- | --- | --- | --- | --- |
| S | M | T | W | T | F | S |
| | | | | 1 | 2 | 3 |
| 4 | 5 | 6 | 7 | 8 | 9 | 10 |
| 11 | 12 | 13 | 14 | 15 | 16 | 17 |
| 18 | 19 | 20 | 21 | 22 | 23 | 24 |
| 25 | 26 | 27 | 28 | 29 | | |
Summer/Fall
5 night minimum stay
Up to 14 guests (6 bedrooms): $1,600 per night
Up to 18 guests (7 bedrooms): $1,800 per night
Christmas/New Years
7 Night Minimum Stay
Up to 14 guests: $2,200 per night
Up to 18 guests: $2,400 per night
Winter/Spring 2018
7 Night Minimum Stay
Up to 14 guests: $1,800 per night
Up to 18 guests: $2,000 per night
Rental Policies
Rates do not include 12.5% VI Hotel Tax
Additional fee applies for Weddings & Special Events
Your Dream Wedding
at Villa Serenita